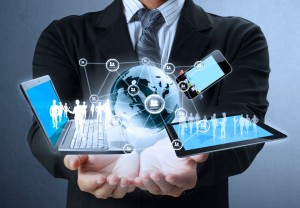 At NEW AGE SOLUTIONS, we pride ourselves on being able to tailor our services to the specific requirements of each of our customers
Through our range of Managed IT Services our goal is simply to enable you to make the best use of IT in your business within available budgets. NEW AGE SOLUTIONS' flexible approach means that we can undertake a full outsource of your IT, or work in a co-source capacity alongside your existing teams and service providers. Whether you're looking for financial savings, service quality improvements or skills coverage, we're confident that our services will exceed expectations in every area.
Our Managed IT services include:
Service Desk
Whilst our Service Desk team are highly capable from a technical perspective they are also schooled in the softer side of service delivery, ensuring an empathetic approach to your user's problems and providing a personalized service. NEW AGE SOLUTION's Service Desk is a 8:30am to 5:30pm manned operation delivered from our Operations Centre in Australia. We are experienced in transitioning and supporting 1st to 'n'th generation outsourcers and recognize the 'leap of faith' required on the part of the customer. With this in mind our aim is to as seamlessly as possible integrate with your pre-existing operations, whilst also recognizing the opportunity to implement 'quick-wins' to impress your users from the outset.
Infrastructure Management
No business underestimates the critical function of keeping their server and network infrastructure up and running. In many cases when server/network outages or service degradation occurs it can prevent your entire business from operating. With this in mind it is crucial that appropriate measures are taken to safeguard your systems and applications. NEW AGE SOLUTIONS provide a comprehensive Infrastructure Management service that maximizes uptime and ensures that your systems and applications, be they on-premise, hosted, or Cloud based, are optimally configured for performance.
Service Management
Effective Service Management is at the core of NEW AGE SOLUTIONS Managed IT Services portfolio. We believe passionately about building positive and enduring relationships with our customers. This is based on a foundation of excellent service quality supported by continuous improvement programmer to deliver real benefits to our customers.
Service Integration and Management (SIAM) – Simplifying Supplier Management
"Supplier Sprawl" is becoming an often used term as the proliferation of service delivery avenues continue. Organisations now frequently find themselves engaging with internal resource, Cloud services (as both public and private commodities) and various Managed Service Providers in their hunt for the most appropriate and cost-effective IT solutions. With our SIAM service, NEW AGE SOLUTIONS act as the Service Broker on behalf of our customers ensuring that the complexity of multi-vendor relationships is reduced, and internal management overhead is kept to a minimum.