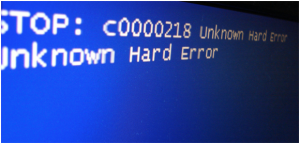 HP was hit with a fine for misleading warranty practices.
This month, Hewlett-Packard was ordered by the Federal Court to pay a fine of $3 million for misleading consumers and retailers about its product warranty.
The fine, called a civil pecuniary penalty, was ordered after the Australian Competition and Consumer Commission (ACCC) took action against HP, exposing issues in the company's practices relating to warranty and product guarantee. Civil pecuniary penalties such as this one are intended to punish the offending company while also deterring other companies from following in its footsteps.
The allegations brought against HP by the ACCC, upheld by the Federal Court, involved long-term deception of consumers and retailers in a variety of matters related to warranties. The problem began in overseas call centers, where help desk workers were instructed to pass along misleading messages to the customers who were calling in.
These messages included informing customers that remedies were available to consumers only at HP's discretion, as well as telling them the customers that they were required to have their product repaired multiple times before they were given a replacement.
In addition, consumers were told that the warranty period for their purchases was limited to a specified period, outside of which they were required to pay for the solutions themselves. Additionally, customers who had purchased products online found that they were only able to return them at the sole discretion of HP.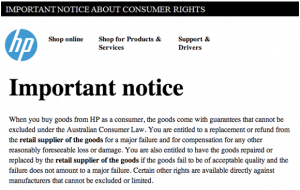 HP put a message on their website in the wake of the fine. See: Important Notice
In a message from its chairman Rod Sims, the ACCC said that it hoped this fine would send "a strong message to all companies, particularly large multi-national companies, that the Australian Consumer Law is not negotiable."
The $3 million fine is the second largest of its kind, and the ninth fine of over $1 million that the ACCC has achieved since its beginning in 2011. The largest penalty was for $3.6 million, and it was ordered against Optus last year in response to allegations of misleading broadband plans. Last year, Apple was fined $2.25 million for falsely advertising its new iPad as being 4G-compatible.
There are several basic provisions for consumer goods that are laid out by the Australian Consumer Law. According to these provisions, consumer goods must be of acceptable quality and fit for any disclosed purpose, must match any description under which they are sold, and must have spare parts available for a reasonable time. Finally, all express warranties that are offered must be honored.
HP Australia expressed regret for having fallen short of its commitment to customer satisfaction. Now that the company is facing such a large penalty—and now that its deceptive practices have been exposed and sharply criticized—we expect that HP will be much easier to deal with in the near future. So far, however, we have not seen too much change.
Fortunately for you, with the help of New Age Solutions, you don't need to deal with HP or any other manufacturers directly. By using our services, you can ensure as stress-free a process as possible by allowing us to handle all of these negotiations ourselves on your behalf.
Image: Justin